COURSES:
FILM 3500 - Special Topics in Film Production and FILM 3905 - Independent Study/Research.
TRAVEL AND LIVING ARRANGEMENTS:
Students arrange and pay for their own round-trip flight to Cefalu'. Transportation for program-related field trips are arranged by Frontier Education and are included in the program fee. Students are housed in apartments in Cefalu' for the duration of the program. A welcoming and farewell dinner are included as well as one field trip. Students are also encouraged to explore Italy during their free time - past students have enjoyed weekend getaways to a number of destinations including Palermo, Agrigento, Rome, Tuscany.
HOW TO APPLY:
Contact Jacquee Williams at University of Utah learning abroad office:
801.581.5849 (main office) - 801.585.3446 (direct line) -jacquee.williams@utah.edu
Contact Giuliana Marple at the University of Utah
801.671.2331
g.marple@utah.edu
FACULTY
Kevin Hanson
Chair, Film & Media Arts Department, University of Utah
Associate Professor, Film & Media Arts Department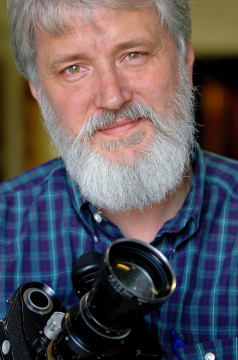 Kevin's teaching career includes teaching film production at Wright State University, Ohio University, and the University of Utah and teaching history and theory courses for the Masters of Professional Communication program at Westminster College. He ran the Management Communication Center for the David Eccles School of Business from 1992 through 1994. Kevin began his teaching career as an NEA Artist in the Schools. He holds a BA in Fine Arts from Westminster College and an MFA in Art (filmmaking) from the University of Utah.
Kevin brings with him an eclectic mix of professional film credits including video production work for business and industry, promotional videos for arts, management, and high tech organizations. He has worked as a cinematographer and has produced his own narrative, documentary, and experimental film projects. Kevin continues to produce films across the fine arts disciplines with colleagues and former students.
Sonia and Miriam Albert-Sobrino started making films less than a decade ago. Extremely responsible from a young age, this couple of twins had a promising career in the Nursing Profession before switching to Filmmaking. Since then, they have been able to produce work that has screened in first level film festivals such as the Edinburgh International Film Festival (EIFF), Chicago Underground Film Festival (CUFF), Morbido Film Fest, Raindance Film Festival (RFF), Festival de Cans, Cinespaña, among many others. Their first feature "The Story of a Satellite" has had a successful festival run, including CUFF; a nomination to Best Debut Feature in RFF, etc… They are currently developing their second feature film, "Melita", while they continue to teach film at the University of Utah and produce independent film work and Media Arts projects.